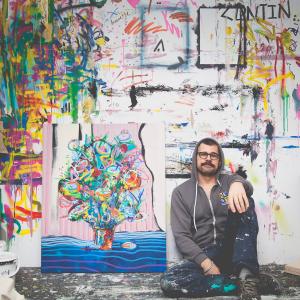 Pat Cantin
Artist member since 2018
Montreal, Quebec
Bachelor in visual and media arts, Pat Cantin approaches as subject, abstract portrait, semi-figurative or, "anti-portrait", as he likes to call it.
See and feel the emotion of a face other than through the eyes or the direct expression. Without the eyes, already, the interpretation of a portrait is perceived very differently from one spectator to another. Reading the expression of the proposed character while looking elsewhere to find his bearings becomes the key.
Pat Cantin works with oil, aerosol and acrylic for his canvas production. Each medium brings a different essence to the work.
---
Only thing you need when you leave the house
My music :)
Favourite movie
Eternal sunshine of the spotless mind
Favourite artist(s) right now
Andrew Salgado
Favourite medium
I'm using everything in my paintings.
Coffees per day and from where
3-4 and I brew my own
I'm really good at making (a) ...
a fool og myself!